WHITE HORSE INN
Now known as the White Horse Stables.

Stechworth,
Cambridgeshire.
1905

For the Earl of Ellesmere.
Photo on paradisebackyard.blogspot.de
Contemporary photograph,
Link > RIBA Photographs Collection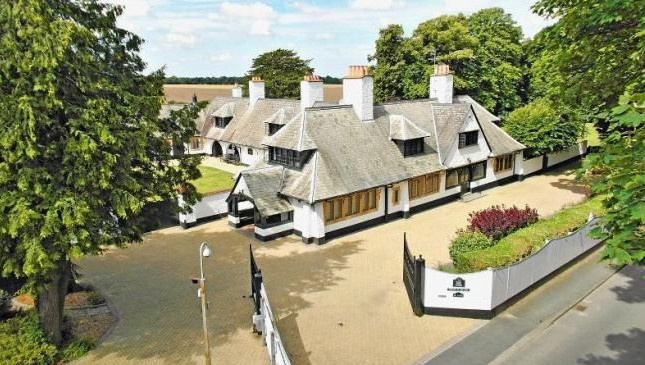 Photo on www.pinterest.com
Photo on www.pinterest.com,
(www.rightmove.co.uk)


Perspective,
published in: Stuart Durant, C F A Voysey, p. 84,
RIBA Drawings Collection
Link > RIBA Drawings Collection
White Horse Inn, image on invaluable.co.uk (Christie's)
RIBA Drawings Collection,
published in: Stuart Durant, C F A Voysey, p. 84


RIBA Drawings Collection,
Published in: Stuart Durant, C F A Voysey, p.84

Drawings Courtesy of The Royal Institute of British Architects.
Photographs, drawings, perspectives and other design patterns
at the Royal Institut of British Architects Drawings and Photographs Collection.
Images can be purchased.
The RIBA can supply you with conventional photographic or digital copies
of any of the images featured in RIBApix.

Link > RIBApix (Voysey Images)
Link > RIBA Images (White Horse Inn)
Link > Photo by Peter Tree > www.imagesofengland.org.uk (with description)

Description on imagesofengland:
TL 65 NW STETCHWORTH HIGH STREET (West Side) 6/156 The Old White Horse GV II House, formerly an inn built in 1905 for the Earl of Ellesmere by C.F.A. Voysey. Free style design. Roughcast render to buttressed brick walls with limestone dressings; flared hipped plain tile roof and attic roofs. Slender iron brackets to gutters. Two tall symmetrical ridge stacks. One storey and attic, L-plan. Rear wing, extending as loggia links stables to south-west forming courtyard. Main facade to north-east of four 'bays'; central 'bays' with facade gable and hipped dormer window to left hand. Entrance originally through recessed open porch with braced wooden posts, recently infilled by small-paned glazed doors and fixed windows. Two attic windows, and three ground floor windows, casements of six-five- and four-leaded lights with plain limestone mullions and architraves. Wall and double gated courtyard entrance to north-east with opposing arched entrance with flared hipped roof. Interior details largely unaltered include staircase, panelling, inglenook hearths and rounded arches to openings. VCH, Vol.VI, p.172. Pevsner, Buildings of England, p.461. A. Service, Edwardian Architecture (see Voysey), 1977.
___________________________________________
RIBA Drawings Collection,
C. F. A. Voysey,
by Joanna Symonds, p. 42
References
The British Architect,
LXIV, 1905, p. 440; LXVI, 1906, p. 274.
Moderne Bauformen, X, 1911, p. 174.
The Architect, CI, 1919, p. 54.
Country Life, 6 August 1927.
Architectural Review, LXX, 1931, p. 94.
> Return to Voysey Home page <