LODGE STYLE.

Shaft Road,
Combe Down, near Bath,
Avon.
1909
For T. S. Cotterell.


The client was a quarry-owner, therefore the house was made of stone.

J. Brandon-Jones: "Cotterell had wanted something reminding him of Merton College, Oxford,
so Voysey designed him a miniature college quadrangle."
Joanna Symonds: "The house is built round a courtyard like a miniature monastic or college building.
The walls are of stone from Bath Stone Firms Ltd (Cotterell's business)
and the roofs are of slate.
The windows have stone mullions and iron casements.
The interiors have unplastered walls and white, coved plaster ceilings.
There is a photograph of an interior at the RIBA."
Click on image for larger version.
Photo by Duncan Simpson
Photo by Duncan Simpson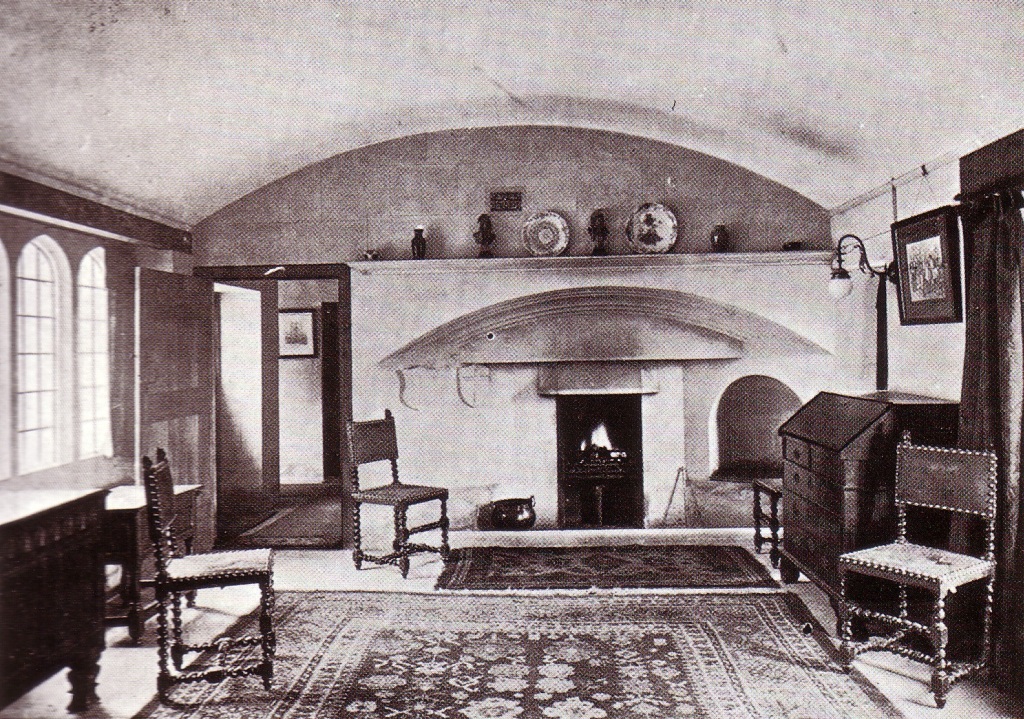 Photo published in: Stuart Durant, CFA VOYSEY, Architectural Monographs No 19, p.97.
RIBA Photographs Collection
Lodge Style; the first scheme.
Not executed in this form.
Published in: Peter Davey, Arts and Crafts Architecture, p.88
RIBA Drawings Collection.
Section
RIBA Drawings Collection.
As Duncan Simpson mentioned, the first scheme of a Collegiate Bungalow style,
to be built around a courtyard or, more properly in this case, quadrangle, forty feet by thirty feet,
was whittled down so that as built the quadrangle has become a cramped 23 feet by 21 feet (approximately).
RIBA Drawings Collection.
____________________
RIBA Drawings Collection.
Image on www.artsandcraftsdesign.com
Image on www.artsandcraftsdesign.com
Drawings Courtesy of The Royal Institute of British Architects.
Photographs, drawings, perspectives and other design patterns
at the Royal Institut of British Architects Drawings and Photographs Collection.
Images can be purchased.
The RIBA can supply you with conventional photographic or digital copies
of any of the images featured in RIBApix.
Link > RIBApix (Lodge Style Image)

Link > RIBApix (Voysey Images)
Link > www.artsandcraftsdesign.com (Photo and drawings)
- Peter Davey, Arts and Crafts Architecture: The Search for Earthly Paradise, 224 pages,
Publisher: Architectural Press, London 1980,
> Chapter 8 The Pathfinder, pp. 82-96. (Chapter about Voysey) PDF
Link > www.britishlistedbuildings.co.uk/en-510320-lodge-style- (Description)