BROOK END.

New Road, Henley-in-Arden,
Warwickshire.
1909
For Miss F. Knight.
The walls are roughcast with tarred plinths, most windows have stone dressings,
though some are wood-framed, and all have iron casements, and the roofs are of green slate.

Conversion of the stables into garages.
Photo by Duncan McNeill
Royal Pavilion, Art Gallery and Museums,
published in: Duncan Simpson, C.F.A. VOYSEY an architect of individuality
with a preface by Sir James Richards,
Lund Humphries, London 1979, pl. 47a, p.105.
The garden elevation,
published in: David Gebhard, Charles F. A. Voysey Architect, Los Angeles 1975, fig.124.
Perspective showing the house as built except for the length of the porch,
published in: Duncan Simpson, C.F.A. Voysey, p. 106.
Link > RIBA Drawings Collection

Ground plan
Link > RIBA Drawings Collection
Ground Plan
Link > RIBA Drawings Collection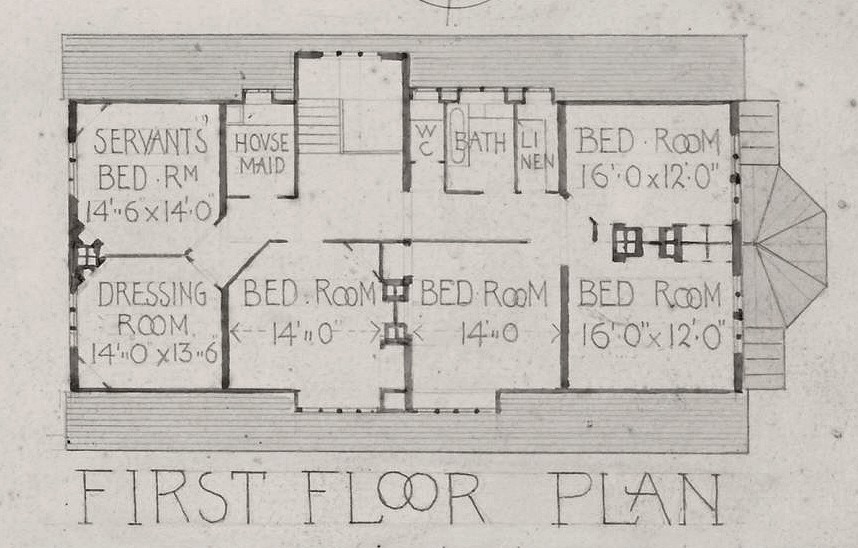 First floor plan
Link > RIBA Drawings Collection
Link > RIBA Drawings Collection
Link > www.architecture.com
Photographs and Drawings Courtesy of The Royal Institute of British Architects.
Photographs, drawings, perspectives and other design patterns
at the Royal Institut of British Architects Drawings and Photographs Collection.
Images can be purchased.
The RIBA can supply you with conventional photographic or digital copies
of any of the images featured in RIBApix.
Link > RIBA Drawings Collection (Voysey Images)

Link > RIBA (Brook End Images)
Link > David Cole > Brook End
Link > Photograph by Helmut Schulenburg
www.imagesofengland.org.uk
Description on imagesofengland:
HENLEY-IN-ARDEN SP1465 NEW ROAD 652-1/11/118 (North side) 05/04/67 Brook End and attached walls and terrace II House and attached stable range and wall. 1909. By CFA Voysey for the Misses Knight of Barrells Hall. Roughcast with sandstone ashlar and brick dressings; steeply pitched slate roof with brick end stack, stack in slope of roof and cross-axial stack, all with tall pots. 3-unit plan. EXTERIOR: single-storey plus attic; 4-window range. Entrance in canted projection to right of centre has open gabled brick porch with brick piers to ashlar pointed arch, bands and lozenge with initials; plank door with strap hinges. Flush-faced mullioned windows: 3-light window to each side of pair of 4-light windows to left of porch, which has side lights, and 3-light window to right end; attached pair of gabled roof dormers with 4-light casements; all have leaded glazing. Left return has lean-to outshut below two 3-light windows under drip-course, and drip-course to gable; attached stable range with hipped roof and stack; 2 coach entrances have paired plank doors with strap hinges; similar stable door to left has flanking 2-light mullioned windows, and entrance with similar door to right end, with 2-light window to left, leads to through passage along side of outshut, which has entrance to house. Right return has canted conservatory projecting between 2 flat-roofed 3-light bay windows with two 2- plus 2-light windows above. Rear has catslide outshut with gable to 3-light transomed window. INTERIOR: not inspected, but believed to have Voysey fittings, octagonal library and octagonal dining room, and conservatory. SUBSIDIARY FEATURES: wall attached to outshut projects with round-arched gateway then returns to cross front of stable range, with paired plank gates under archway, and later garage with swept roof and entrance with paired doors to front gable; similar wall with arched gateway to return attached to other end of house, which stretches round 3 sides of a garden to the right of the house; terrace with rubble walling and steps with ball finials connects 2 walls and the porch.
(Duncan Simpson, CFA Voysey an architect of individuality, London 1979, pp. 105-107).
References
The Architect, LXXXIV, 1910, p. 232 & supplement p.18.

The British Architect, LXXIII, 1910, pp. 345 & 348.

David Gebhard, Charles F. A. Voysey, figs. 123 & 124.
> Return to Voysey Home page <
http://www.besucherzaehler-homepage.de